These are just some random finds that have made our working experience a bit more enjoyable:
---
Stylish
This is a free chrome web extension that lets people all over the world create CSS programs that can replace the CSS script of certain and sometimes every website on the internet!

Some of the things that Stylish can do are:
- Replace the color scheme, and buttons.
-Change the layout of the website.
-Add animations to the webpage itself.
'
Examples: (These are all live screenshots)
​
Powered by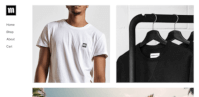 Create your own unique website with customizable templates.